This page was last updated on: March 31, 2001

This site created A. Johns and maintained by P. Johns, member, Machias Vol. Fire Dept.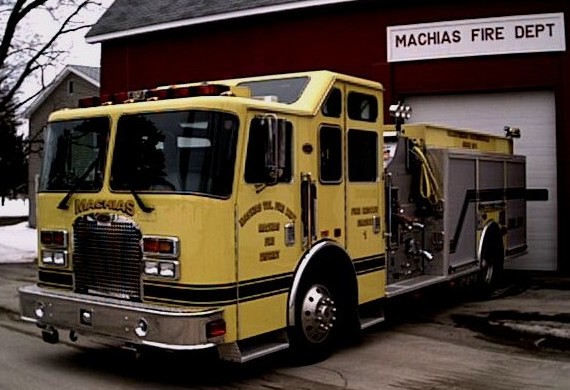 Machias 1
2000 KME Engine
Machias 4
1970 Ford/Young Mini-Pumper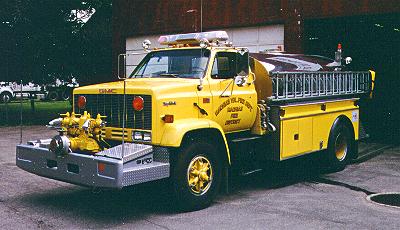 Machias 5
1990 GMC/JC Moore Ind. Tanker/Pumper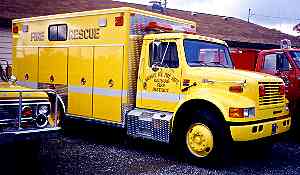 Machias 7
1995 International/EVI Rescue Truck
Machias 8
2000 Ford/Braun Raider Select Ambulance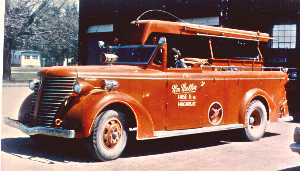 1938 Amercian LaFrance Engine
First engine to be purchased new by MVFD.
Remained in service until 1984.
Still owned by Dept. as historical piece.
OPEN HOUSE 1998
On October 10, 1998, the Machias Volunteer Fire Department celebrated Fire Prevention Week with an open house at the bingo hall. Fire Safety information and displays were presented by the Fire Department and the Junior Fire Department, and all the apparatus was on display. In addition, a mock auto accident was staged to demonstrate the extrication and patient care services provided by the department. The Franklinville Fire Department demonstrated the use of their "Jaws of Life" tools, and Olean 10 (the Advanced Life Support unit from Olean General Hospital) was also on hand to assist in the drill. In spite of the cloudy weather, Mercy Flight was able to land and demonstrate its medivac capabilities. Below are some photos highlighting the day: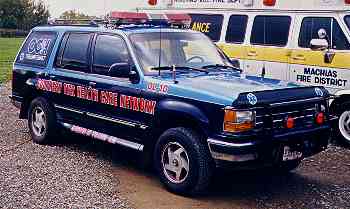 Olean 10
The Franklinville Fire Department demonstrate how to remove a vehicle roof using their "Jaws of Life."
The Machias Fire Department and Junior Fire Department demonstrate the care and removal of a patient from an overturned car.
| | | |
| --- | --- | --- |
| | | |
| Mercy Flight lands. | The "patient" is loaded onto Mercy Flight. | Mercy Flight takes off. |
[ Home | Overview | Equipment | Members | Bingo | Pictures | Links | Contact ]